It always amazes us with as many networking events that we attend and thousands of social media followers that see us each month when we get asked "who are you guys", "who is Vernon Stading", or "what experience do you really have as consultants".  Vernon's personal favorite questions is, "how could you possibly help us, we are experienced business owners".  We would like to tell you how Devoted Enterprises came to be and prove that we can help you as a business owner succeed!
Before Starting Devoted Enterprises, the predecessor, Devoted Business Development ( a consulting firm that later be re-branded and re-organized into Devoted Enterprises), Vernon Stading was an executive leader in the corporate world.  He worked as an executive in charge of a large territory for an international franchise company.   Since the time he was out of college, he was tasked with helping business owners grow their business, implement processes and systems designed to help businesses thrive and helping develop lasting relationships with their customers that would last decades.  As he got promoted throughout his career, he used to manage a group of franchise and corporate multi unit managers and saw both sides of the business. That is also where he got into consulting by accident when one of the larger franchise owners mentioned to him one day that they wanted help with some of their "other business ventures".  His success doing this led to other franchise owners doing the same thing over the years and ultimately to a lucrative business venture in addition to his corporate full time career.   Vernon got to learn about industries that he had no experience in prior to these happenings.  Industries such as manufacturing, commercial real estate, jewelry, retail, pawn, payday lending and more.  This was key to helping to build our consulting brand in years to come!  This is where Vernon also used his merger and acquisition experience to help these clients acquire more and even "flip" some businesses like people do houses now.  With his background in merger and acquisition, Vernon was more than happy to help his clients then acquire businesses that were in trouble and make a great living  by improving their operations.  So, when Vernon and his team train you on their processes you can rest assured that they know what they are talking about because they personally lived the life of a business owner and leader.  The owners he helped in the beginning had no money to grow the business and we had to get good at turning the inventory they had into cash flow, stopping cash flow leaks and making new revenue streams all on our own.  After doing this for almost 2 years in addition to his normal corporate career, Vernon took another position with a large company that owned commercial real estate, pawnshops, eCommerce store, payday loan shops and more.  He was brought in to turn around a large chain of payday loan stores for them and got them back on track after years of downturn.  Becasue of the knowledge of his background, Vernon was asked to help take over and "flip" pawnshop/payday loan hybrids that they owned secretly in the southern Midwest market.  Vernon did this for almost 2 years, making that company millions of dollars by fixing and selling these transformed locations and turning around their operations.  From there, Vernon Started his own consulting company called Devoted Business Development and began to work full time as a self-employed consultant!
Devoted Enterprises Inc. & its DBA's
"Devoted Enterprises is built on a promise of no kick backs, no need to ever hire us again and us giving you all the tools that you need for long term financial health and success.  No strings attached.  Ever."    Vernon Stading
When Vernon founded Devoted Business Development, he consulted in 4 major industries.   Hospitality companies (customer service),  franchise companies and Pawn & Jewelry companies.  As our business grew rapidly over the first 3 years, we realized that it became harder and harder to market each individual industry separately and the people were confused with what types of industries we serviced and if we were experts in the fields they were seeking.  In 2016, Devoted Business Development re-incorporated and re-branded itself due to those reasons and also because of business growth into other industries.  The re-branded company is now known as Devoted Enterprises and has DBA's (doing business as) entities are named Devoted Franchise, Devoted Hospitality, Devoted Commercial Real Estate, Devoted Pawn Consulting, and others.  This allows us to market each brand separately, hire and develop expertise in each one, and also take the key learnings from one industry and apply it to others.  This has made us stand out drastically in the consulting industry and has made us different and special in many different ways.  In 2018, Vernon Stading also created a not-for-profit organization that helps business and business professionals in need free of charge with the donations that they collect.  This allows us to help many owners each year in need when they cannot afford our services.  To this day, Vernon has ownership interests in several other ventures including commercial real estate, retail, pawnshop companies and more so you can rest assured that the advice he gives is solid because he uses it where his own money is involved on a day to day basis.
Proud Industry Accomplishments
Vernon is not known to brag and talk about his accomplishments but as part of the Devoted Enterprises Team we would not be doing justice if we didn't mention his and our combined accomplishments.  We are most proud of the fact that every month we help business owners who are in dire need of changing the way they do business.  They are accustomed to the "old school" way of doing business and need help and support on where to begin.  We give them not only the most solid foundation on how to do so, but step by step directions to follow long after we have been paid and gone on to the next client.  We have clients that are still seeing double digit increases in sales and more years after we have helped them.  This is because our consulting promotes a thought process of us giving you all that you need to achieve independent financial freedom and that process allows you to continue to improve year after year the more you practice it and execute it.  But don't take our word for it, check out what our clients say about us and find out for yourself what our successes have been and how well we are regarded in the business world.
If you asked Vernon what he is most proud of, he would most likely tell you that the day he founded Devoted Foundations on 5/1/2018 was one of his most fond moments in his self employed career.   That is because to date, we have partnered with his not for profit organization and have helped 87 (and counting) companies pull themselves out of a bad situation and set themselves up for success with little or no money paid out of their pockets.  The impact that this made in their personal and professional life has been nothing short of dramatic. Vernon would also talk about how hard, yet rewarding it has been changing one the industries that we work in.  The pawn industry.  Since our arrival there, the industry has continued to change for the better year after year.  He single handily has brought in many vendors to that industry and others in professions that did not exist before such as nationwide benefits providers, nationwide wealth management professionals, cost savings experts, tax experts who can prove that you are overpaying your taxes in your business, and many more.  All of these are meant to help the business owners and not line the pocket of the vendors like so many other consultants have done in the past.   Vernon would also tell you that he is proud of the fact that he introduced many vendors-less and education only based conventions, training sessions, business luncheons and more that are designed purely for the business owner profitability even though it cost him tens of thousands of dollars each year personally out of his own pocket. These events had huge successes and have even helped shape and change the way other conferences and conventions are operating.   All of these things unselfishly benefits the business owners and makes them more successful and are pioneered by Vernon with no agenda other than making a fair wage for helping owners succeed.  Lastly, Vernon would talk about how he prides himself on not collecting kickbacks of any kind in any way from the referrals he sends to his clients or the new vendors that he brings in to this industry.  He is quoted as saying "Devoted Enterprises and its DBA's are built on a promise of no kick backs, no need to ever hire us again and us giving you all the tools that you need for long term financial health and success all with one simple hire.  No strings attached.  Ever."  You can rest assured that you are in good hands with Vernon and his team here at Devoted Enterprises and that your best interests are our only goal.
How Does Devoted Enterprises Help Our Clients?
At Devoted Enterprises, we desire to never have you need to hire us again once you retain our services. This is because we give you everything that you will ever need to succeed with every single package so you can grow and improve on your own.  These tools and services include, but are not but limited to:
Free admission to our Events and other Trainings as well as our other events scheduled- Included in every service package from us.
Free custom marketing and advertising plan for your company including digital, online, seo, social media and more- Included in every service package. You do not need to pay additionally for this which will save you thousands of dollars!
Free competitor analysis – we will review your competition and give you the plan of attack than can help you take business from them almost immediately.
Free custom commission and bonus plan creation- Included in every service package that will fit your business just right and is sure to help your team grow your business.
Free cost saving review on all your services, spending and more- Included in every service package.  This is usually tens of thousands of dollars saved every year and more than pays for our services every single time
Free review of your taxes to show you where you are overpaying for your taxes every year and can put that money in your pocket or back in the business. This usually equates to tens of thousands of dollars saved every year, per location.
Complimentary Month of Consulting support after the initial onsite visit that is designed to help you execute the changes that are needed.
Key metric creation and tracking Creation– We will help you pinpoint the exact metrics that you need to review to monitor your progress.
Free Website and SEO review done by our marketing and web expert.
and so much more……
Lastly, we guarantee your satisfaction and the return on investment of our services with a money back guarantee even if you have retained the services of other consultants in the past.  In fact, almost 100% of our clients over the years have hired other  consultants before us and still see double digit increases in sales and more when they work with us.  There is no risk and no reason to wait to hire us.  The time is now to experience the new age Pawnshop Consultant and what it can do for you. We also offer onsite and Mobile Business Consulting for your convenience that can be done offsite.  This is a great cost savings and offers convenience that other consultants cannot.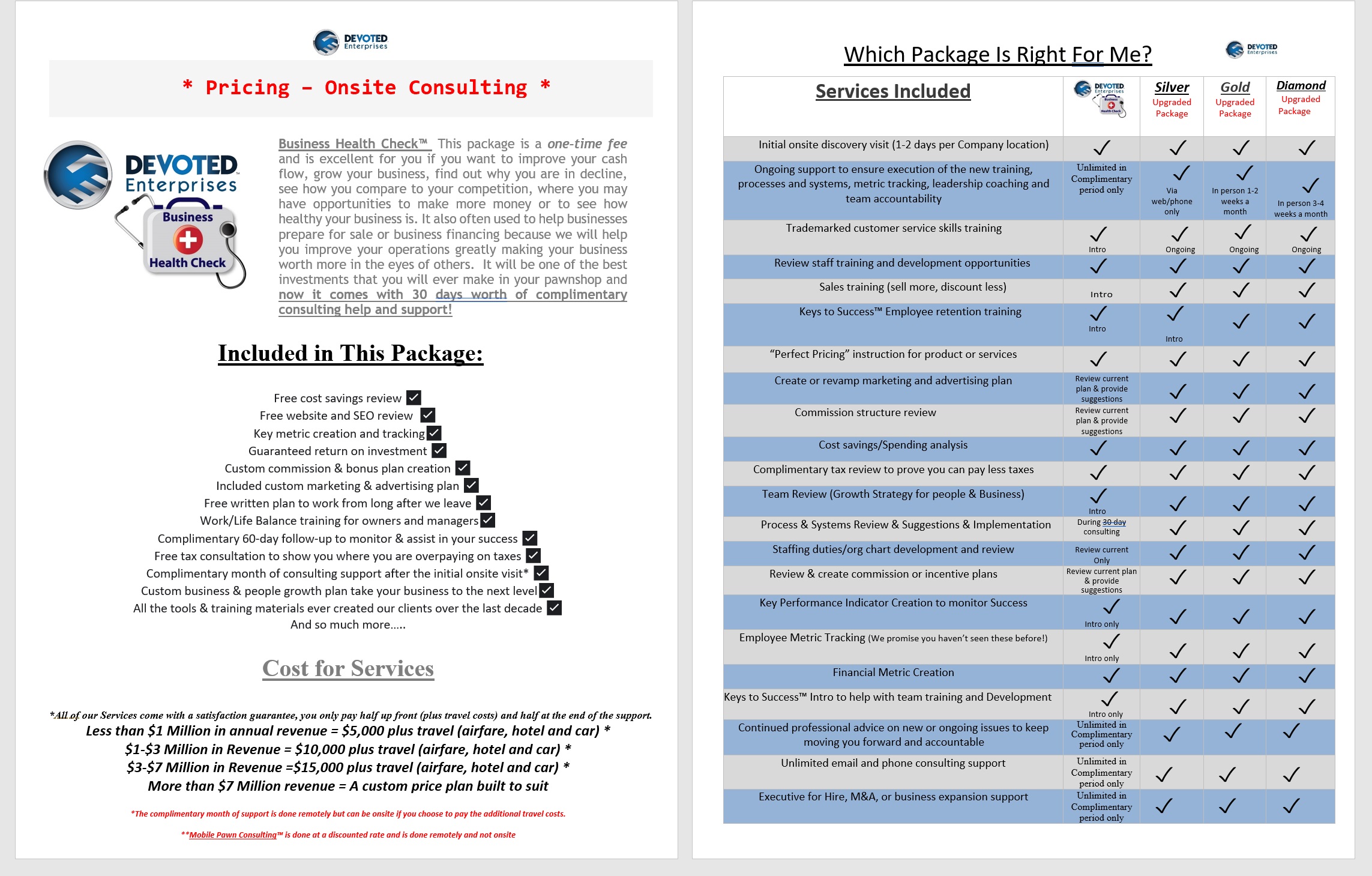 Contact us now or call us directly at 727-580-5876 in Florida or at our main office at 952-582-4669 for more information or a free quote!