At Devoted Enterprises we train that you must be changing and adapting to survive in this industry, and we as a company are no different.  In November and December, we tested some new ways to do business with each and every new customer and the results were astounding.  Those tests, along with feedback and advice from dozens of past and potential clients has led us to make some significant changes to how we do business with you, the business owner.  You spoke, and we listened!
Business Consulting Changes in 2020
The first major change that we made involves ongoing support and consulting after our onsite visit.  We are now offering 30 days of complementary consulting support after our initial  visit.  This is huge because for years we have gotten 2 types of feedback on our services . First, even though our average client sees 20-30% increases in business volume and new revenue streams, owners had doubt that this was achievable with  7 days worth of business consulting support because no one does business like we do.  Second,  we are  always told that our summaries are so detailed and thorough and involve so many aspects of the business that they need help to begin and to implement all the changes necessary to be successful.  This change in the way we do business addresses both of those concerns for business owners!
The next major change that we are making involves pricing and payments.  In the past, we have always asked for payments to be made in advance of the consulting.  The feedback that we got is, first, it is an investment and a "risk" because the business owner's fear is that they may be taken advantage of like others have done to them in the past.  The other fear is that even though there is a guarantee of satisfaction in place for all clients currently, the fear is that since we are paid in full that we "do not have to honor the guarantee" because the money has already been paid to us.  To address these fears, we tested having the business owner only pay half of the fee up front, and the other half upon successful and satisfactory completion of our services.  This had two amazing results!  First, it relieved the stress and fear of the aforementioned risk of ROI, but it also allowed the companies to improve and generate more revenue and income to pay for the second half of the fee.  "The services literally paid for themselves before the bill was due" in 100% of the clients that we tested this with.
The last major change that we made for 2020 involves people and leadership development.  In the past we have always touched on this but not gone in depth with each company in our initial introductory consulting package.  Now, since we are offering additional time with each client per package, we are able to dive much deeper into this with everyone!  We came to this conclusion because the majority of our clients are either growing and need to add a multi unit manager and do know how or don't know how to pay for it, or they need much better  results and improved leadership from their current managers and multi-unit managers and they don't know how to hold them accountable for those improvements.  We will now help each and every single client with a personalized people and business development growth plan that is guaranteed to take your business to the next level.
What is Included in The Business Health Check™
*All of our Services come with a satisfaction guarantee and you only pay half up front (plus travel costs) and half at the end of the free month of support.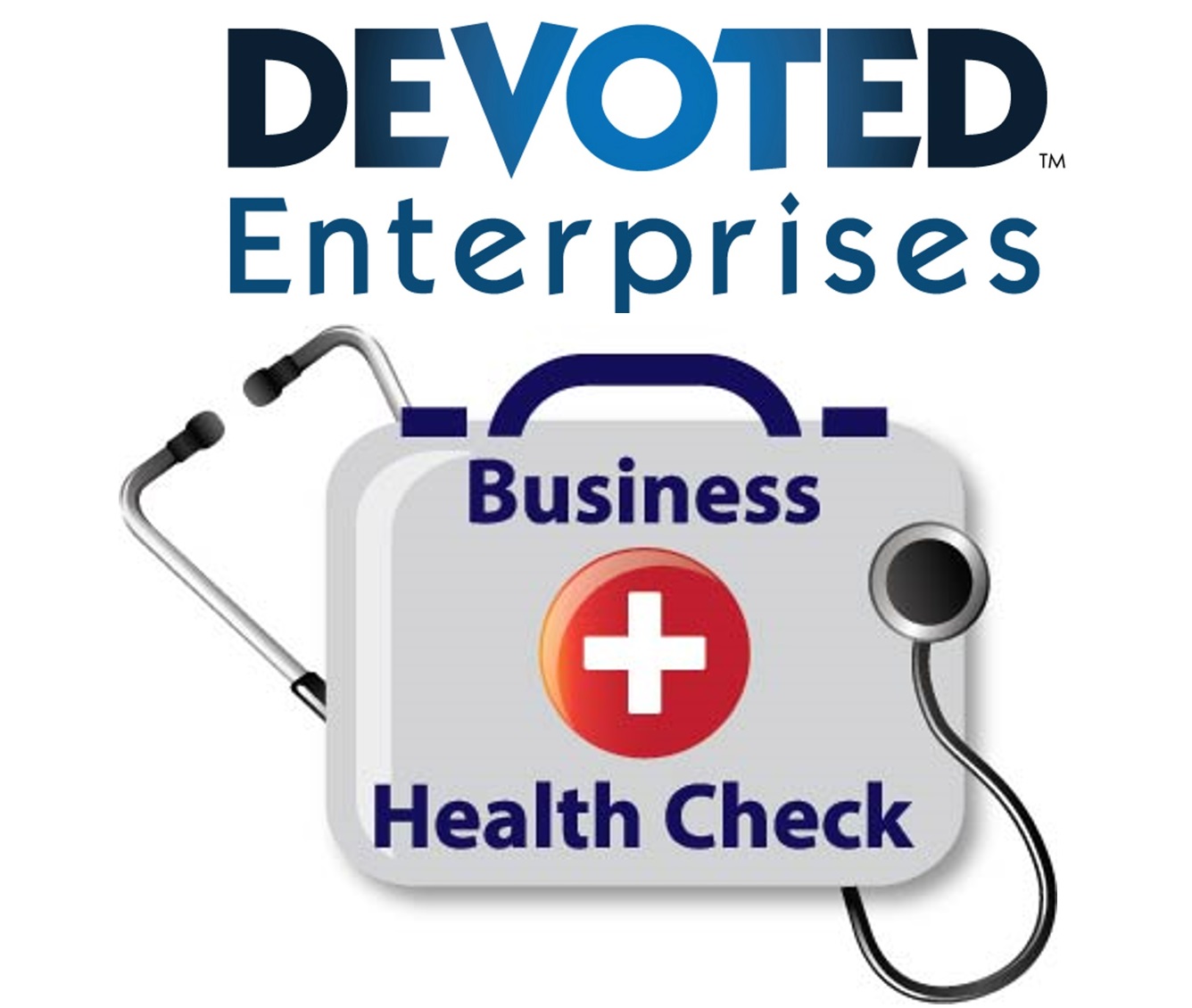 This package is a one-time fee and service package and is excellent for you if you just want to polish up, increase your sales and revenue, add new revenue generators, change your commission plan,  see how you compare to your competition, or to see how healthy your business is to handle the future change of this industry. It will be one of the best investments that you will ever make in your business and now it comes with 30 days complimentary consulting and support!
Included in This Package:
Free cost savings review ✅
Free website and SEO review  ✅
Key metric creation and tracking✅
Guaranteed return on investment ✅
Custom commission & bonus plan creation ✅
Can be done via mobile** or onsite consulting ✅
Included custom marketing & advertising plan ✅
Free written plan to work from long after we leave ✅
Work/Life Balance training for owners and managers✅
Hands on sales Training to grow retail sales and gross profit ✅
Complimentary 60-day follow-up to monitor & assist in your success ✅
Free tax consultation to show you where you are overpaying on taxes ✅
Complimentary month of consulting support after the initial onsite visit* ✅
Custom business & people growth plan take your business to the next level✅
All the tools & training materials ever created for businesses over the last decade ✅
And so much more….
Package Pricing
*All of our Services come with a satisfaction guarantee, you only pay half up front (plus travel costs) and half at the end of the support.
Less than $1 Million in annual revenue = $5,000 plus travel (airfare, hotel and car)*
$1-$3 Million in Revenue = $10,000 plus travel (airfare, hotel and car)*
$3-$7 Million in Revenue =$15,000 plus travel (airfare, hotel and car)*
More than $7 Million revenue = A custom price plan built to suit
*The complimentary month of support is done remotely but can be onsite if you choose to pay the additional travel costs.
** No travel costs if you are located within one hour drive of Minneapolis, MN or Tampa, FL.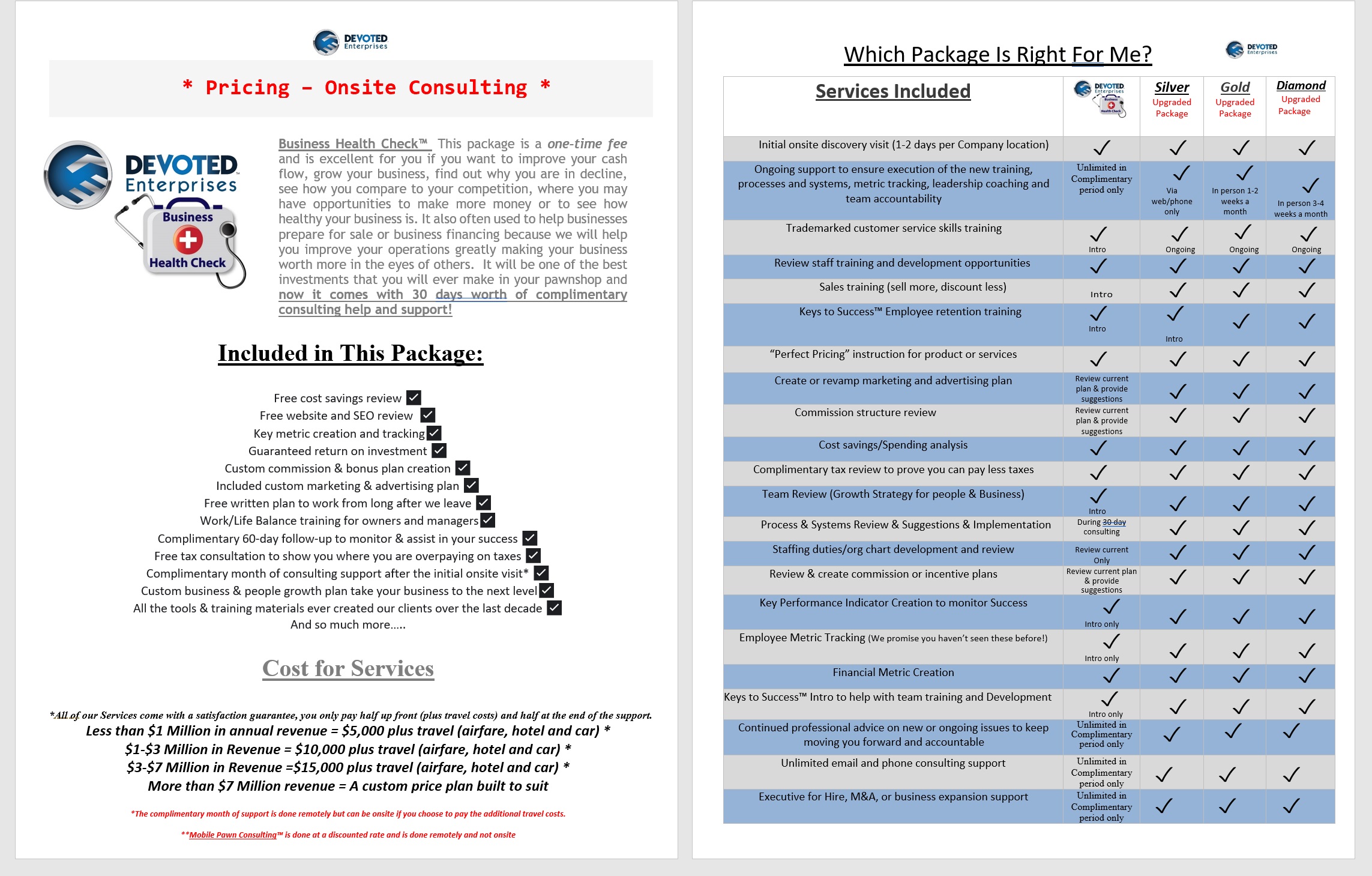 Contact us now or call us at 952-582-4669 for more information on our services or pricing.