We are often told by folks that are interested in our services, "we have already had a Business Coach come in or a  key metric review by your competitor and we do not need another one".  We realize that we need to do a much better job of explaining who we are, what we do and just exactly how our process works and what makes us every unique.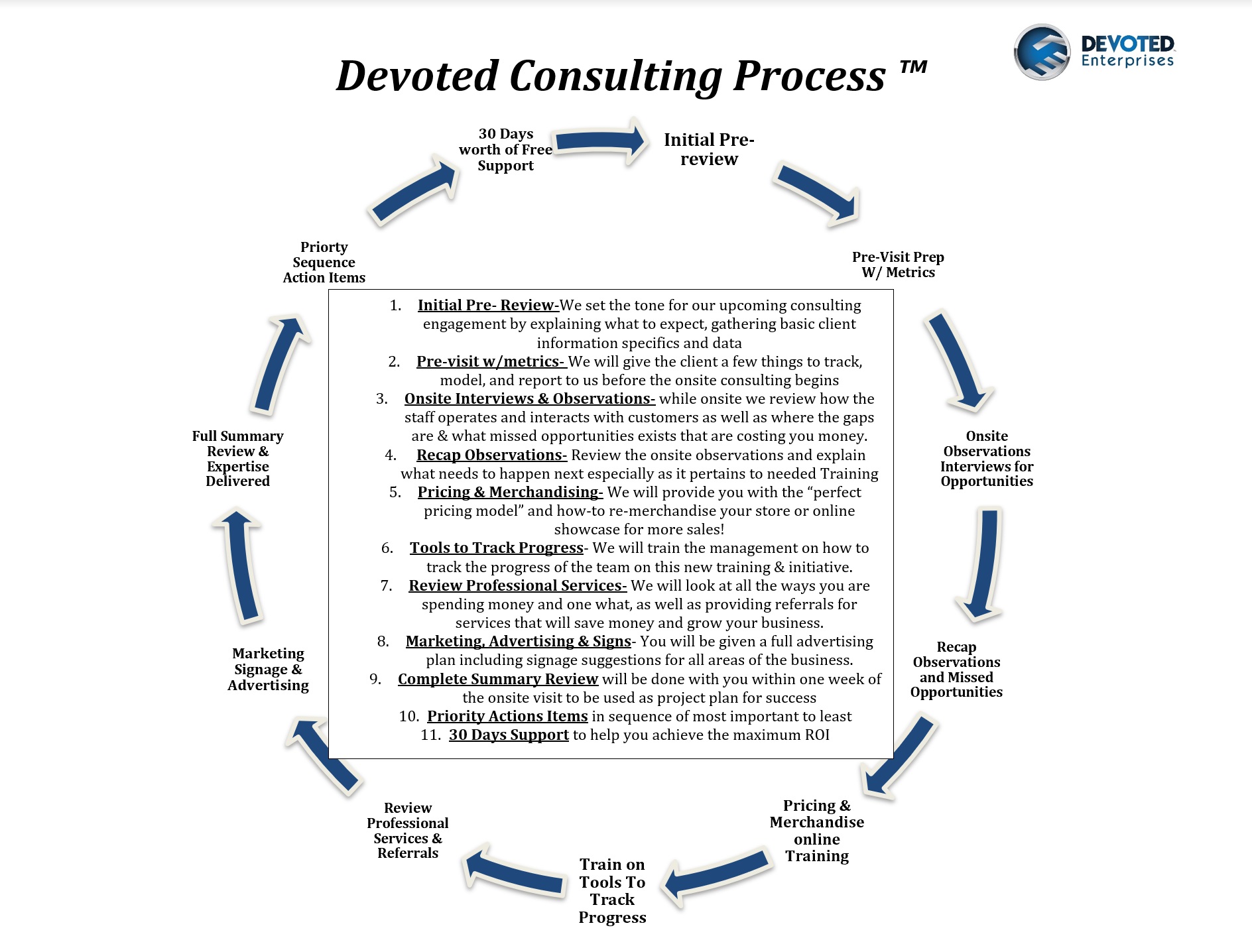 Any of our Business Consulting Service Packages can be considered "All inclusive " because of the depth of involvement that is involved at all levels but we still need to define how the process works.  Here is a breakdown of each step of the entire process.
Initial Pre- Review-We set the tone for our upcoming consulting engagement by explaining what to expect, gathering basic client information specifics and data.  We will have one or more meetings with you and your team to discuss this in detail and answer any questions you may have as well as allow you to answer questions that we have about your specific business model.
Pre-visit w/metrics- We will give the client a few things to track, model, and report to us before the onsite consulting begins. We will review these with you in the beginning because this allows us to have a starting point, allows you to see areas that need improvement, and a way to track future success as you go forward. No financials needed at this point.
Onsite Missed Opportunities- While onsite we review how the staff operates and interacts with customers as well as where the gaps are & what missed opportunities exists that are costing you money. Every store no matter how good they are, has missed opportunities where they can capitalize on.  Some of these are so easy that you will not think they are possible and others will require much harder work. Either way we will help you define them AND come up with a plan to be able to capitalize on these and make more money.
Recap Observations- We will review the onsite observations and explain what needs to happen next especially as it pertains to the Pawn Process Training™. We will review our pawnbroker and sales person training and allow you to add to or deny parts of it before we roll it out to staff.  Not everyone follows our process 100% but even those that do not, see measurable growth!
Pricing & Merchandising- We will provide you with the "perfect pricing model" and how-to re-merchandise your store or online showcase for more sales! Often times pricing and they way we portray our services or merchandise can make or break sales for us!
Tools to Track Progress– We will train the management on how to track the progress of the team on this new training & initiative and most importantly, how to hold the team accountable for better results.  This is the part that is lacking in most operations and we teach you how to overcome this obstacle.
Review Professional Services- We will look at all the ways you are spending money and on what, as well as providing referrals for services that will save money and grow your business. We have successfully done this 100% of the time for our clients.
Marketing, Advertising & Signs– You will be given a full advertising plan including signage suggestions for all areas of the pawn shop. You will also receive a free website and SEO review that will provide exact directions and suggestions on how to improve your ability to be found online.
Complete Summary Review will be done with you within one week of the onsite visit to be used as project plan for success.  This summary will not only highlight areas for improvement, but will also tell you in detail exactly how to achieve the desired result in each area.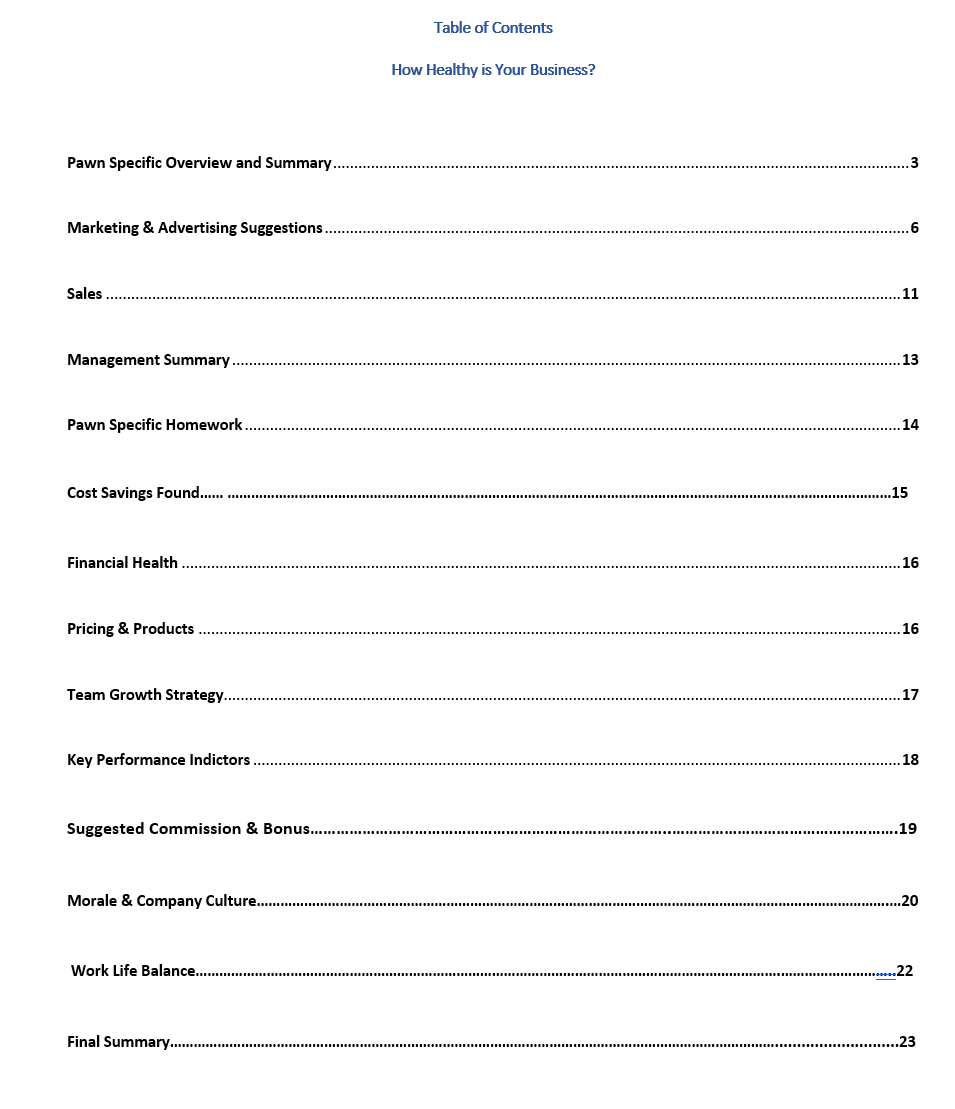 10.  Priority Actions Items in sequence of most important to least.  We will lay out all of the most important efforts and changes that need to be made for your pawnshop to be successful and profitable.  These can be done in sequence and one at a time or as many as you can handle.  This allows your return on investment to grow long after we are gone!
11.   30 Days Support to help you achieve the maximum ROI.  This remote support can be used for project management, accountability, forward guidance about other obstacles or more.  We will also go over a custom bonus and commission plan for your store in this time.
As a Reminder, Here are Just Some of the Many Things We Include in Every Single Service Package!
Free cost savings review ✅
Free website and SEO review  ✅
Key metric creation and tracking✅
Guaranteed return on investment ✅
Custom commission & bonus plan creation ✅
Can be done via mobile** or onsite consulting ✅
Included custom marketing & advertising plan ✅
Free written plan to work from long after we leave ✅
Work/Life Balance training for owners and managers✅
Hands on sales Training to grow retail sales and gross profit ✅
Complimentary 60-day follow-up to monitor & assist in your success ✅
Free tax consultation to show you where you are overpaying on taxes ✅
Complimentary month of consulting support after the initial onsite visit* ✅
Custom business & people growth plan take your business to the next level✅
All the tools & training materials ever created for business clients over the last decade ✅
And so much more…..
Please feel free to contact us for more details or call us anytime at 727-580-5876