Business Consultant vs. Business Coach
We are often asked "what is the difference between a business coach and business consultant"?   As it relates us to, we are normally asked this by someone who has hired a business coach and had mixed results.  In our opinion, being  a business consulting firm, here is what you can expect with hiring us versus hiring a Coach.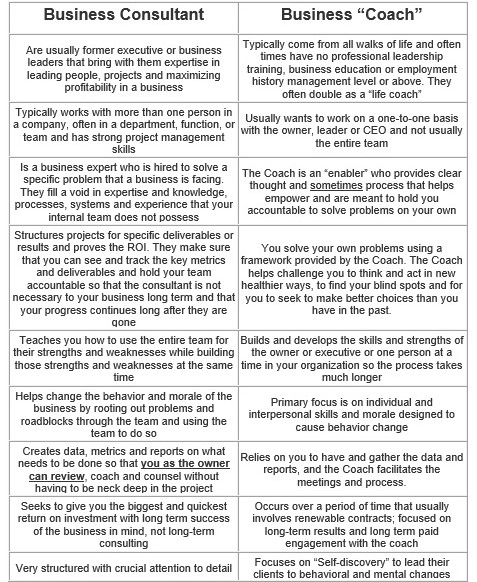 We have compiled these differences over the years not only from personal experiences, observations and conversations with many other owners and business coaches.   Obviously we are slightly biased with this opinion, but what we do know for sure is that just about every single client that we have worked with has used some sort of business or life coach and never gotten the results that they receive with us.  While we agree that there is tremendous benefit to getting your mind, body and soul right and "healthy", we are also realists and know that business owners need the fastest ROI possible in most cases and no one wants to pay long term for support and results that they could get in a fraction of the time and money spent.  If you are trying to find a professional to hire to help you in your business, we recommend that you look at this list and compare the many differences.  We also encourage you to ask for references and testimonials and pay close attention to what is stated in each.  For example, are they telling you about "how the Coach made them feel" or the actual measurable business results that they experienced while working with the professional?
If you have any further questions about the difference between a business consultant or a business coach or would like to provide us feedback on this blog , feel free to contact us, or call us direct at 727-580-5876 .